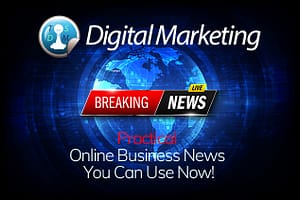 August 2018
Five Ways to Grow Your Business Following with Instagram
Instagram has become the choice of most brands and marketers to stay connected with consumers and enhance sales.
Here are five ways to enhance your following with the help of Instagram.
https://www.entrepreneur.com/video/318455
---
Don't Underestimate the Power of a Good Newsletter to Drive Business
A newsletter can be a great tool to keep your prospects and customers updated about your offers and stay connected.
https://www.entrepreneur.com/article/318409
---
Five Tips to Manage Multiple Social Media Accounts
Social media works as a connecting platform for you to stay connected with your current customers and reach new ones. But how do you juggle multiple accounts for different products and services?
https://digitalmarketinginstitute.com/blog/how-to-effectively-manage-multiple-social-media-accounts
---
Ranking the 6 Most Accurate Keyword Difficulty Tools
MOZ writer Jeff Baker has shared a comparative analysis of the six most accurate keyword difficulty tools.
https://moz.com/blog/ranking-keyword-research-tools
---
The 10-Step Content Marketing Checklist
Copyblogger columnist Sonia Simone has published a 10-step content marketing checklist to help marketers improve their content marketing.
"This is my essential list for you to build a solid content marketing program on. Check these off, and — based on my experience in my own businesses and those of my students — you'll have the right framework to create a successful program."
https://www.copyblogger.com/content-marketing-checklist/
---
The Definitive Guide to Using Videos on Your Landing Pages
Video is a great tool that allows you to deliver a personalized message to your website visitors and customers. And if you use it correctly on landing pages, video can magically improve your conversion rates, too.
https://www.business2community.com/video-marketing/the-definitive-guide-to-using-videos-on-your-landing-pages-02105698
---
The Four Pillars of a Successful Amazon Strategy
While its dominance is undeniable, selling on Amazon does not always guarantee big success. From fees to loss of control – there are certainly negatives that come with getting involved.
https://econsultancy.com/blog/70206-the-four-pillars-of-a-successful-amazon-strategy/
---
Eight Tips for Advertising Successfully on Reddit
For years, marketers have talked about Reddit. Depending on who you asked, Reddit has been the next big thing in digital advertising, or a mirage of epic proportions.
While the jury is still out, Reddit's popularity can't be disputed. Reddit is just as large as Twitter, if not larger following the latter's fake account purge, and has far higher engagement. In fact, as measured by time spent per user per day, Reddit's audience is more engaged than Facebook's.
https://econsultancy.com/blog/70247-eight-tips-for-advertising-successfully-on-reddit/
---
Patt Flynn – 6 Steps to Becoming an Influencer
Here's what you need to do to get your name out there and build a following.
https://www.entrepreneur.com/article/317037
---
50 of the Best Social Media Tools Selected by Top Marketers
Social media is a jungle. Forget about the flood of apps, integrations, and add-ons – just figuring which network you should invest in is overwhelming.
What if you could ask today's influential online marketers one question: "What social media tool is your all-time, desert-island, can't-live-without favorite?"
https://contentmarketinginstitute.com/2018/08/best-social-media-tools/
---
Top 10 Best Website Trends of 2018
Every year, website design and user interface change slightly; 2018 is no different, with trends emerging in design, typography, and colors.
To design a website that can compete with the millions of other similar websites out there, it is important to be aware of the newest styles and most popular methods.
Here are some of the emerging website trends of 2018.
https://readwrite.com/2018/07/20/top-10-best-website-trends-of-2018/
---
8-Step Branding Strategy for Your Small Businesses
Branding is so much more than having a cool logo or flashy website.
Sure, today you have to engage your audience and "tell your story" . . . but if you don't tell it the right way, you're left with nothing but a wasted opportunity.
This is where branding strategy comes into play.
https://www.business2community.com/branding/8-step-branding-strategy-for-your-small-businesses-02104895
---
It's Official: Speed Matters
Google has been warning us that this would come, and it's now it's official: Google is ranking websites according to their speed. Does this mean if your site doesn't score A's on PageSpeed and YSlow, it won't ever rank well?
https://webmasters.googleblog.com/2018/01/using-page-speed-in-mobile-search.html
---
Google AdWords is now Google Ads
On July 24th, 2018, Google AdWords became Google Ads. The new Google Ads brand represents the full range of campaign types available today, including Search, Display and Video.
Here's what changed…
https://support.google.com/google-ads/answer/9028765
---
Non-HTTPS Websites Will Be Called Out
Google Chrome is now marking all insecure (non-HTTPS) websites as 'not secure.'
This will likely scare any user who lands on an insecure website, which could severely cripple a website's conversion rate.
https://blog.chromium.org/2018/02/a-secure-web-is-here-to-stay.html
---
How to Win Friends and Influence Millions: The Rules of Influencer Marketing
Influencer marketing is potent and ascendant, growing stronger each year. How can marketers work with influencers while avoiding the miscues, failures and controversies that have marred other brands?​​
https://www.ama.org/publications/MarketingNews/Pages/how-win-friends-influence-millions-rules-influencer-marketing.aspx